Product Detail
Product Tags
Product technical indicators:
1.The maximum recommended flow:8 L/min
2.The flow range of nominal pressure of 7kPa: 0.5-8 L/min
3.The flow rate change under the maximum recommended flow rate with the back pressure of 7kPa: smaller 1L/min
4.Oxygen concentration when the nominal pressure of the outlet is zero(the specified concentration level is reached within 30 min after the initial start-up): The oxygen concentration is 93% ± 3% at the oxygen flow rate of 8L/min.
5.The output pressure: 30-70kPa
6.Release pressure of compressor safety valve: 250 kPa ± 50 kPa.
7.Machine noise:<60dB(A)
8.Power supply:AC230V/50Hz or AC110/60Hz or AC220V/60Hz
9.Input power:550VA
10.Net weight: about 29KG
11.Dimensions:340*345*725mm
12.Altitude: The oxygen concentration dose not reduce at 1828 meters above sea level, and the efficiency is less than 90% from 1828 meters to 4000 meters.
13.Security system.
14.Minimum working time: no less than 30 minutes
15.Electrical classification: Class II equipment, Type B application part
16.Character of service: Continuous operation
17.Normal working environment: Ambient temperature range: 10℃-40℃; Relative humidity ≤80%; Atmospheric pressure range: 860hPa – 1060hPa; Note:The equipment should be placed in normal working environment for more than four hours before use when the storage temperature is lower than 5℃.
18.Temperature of oxygen outlet ≤ 46℃.
19.Recommendation: The length of the oxygen tube should not exceed 15.2 meters and cannot be folded;
20.Ingress protection rating: IPXO
21.Device type: Non-AP/APG device (cannot be used in the presence of flammable anesthetic gas mixed with air of flammable anesthetic gas mixed with oxygen or methylene).
Specification:
| | |
| --- | --- |
| item | value |
| Place of Origin | China |
| | Anhui |
| Model Number | ZY-8AW |
| Instrument classification | Class II |
| Warranty | 1 Year |
| After-sale Service | Online technical support |
| Type | Home health care |
| Display Control | LCD Touch Screen |
| Input Power | 550VA |
| Oxygen Concentration | 30%-90% |
| Operating Noise | 60dB(A) |
| Weight | 29KG |
| size | 340*345*725mm |
| Adjustment | 1-8L |
| Material | ABS |
| Certificate | CE ISO |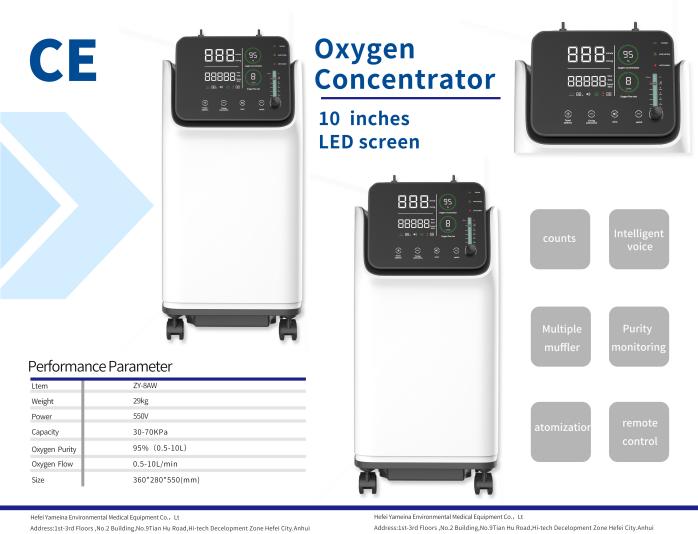 ---
Previous:
Factory Directly supply China Cheap Psa Technology 1L Household Oxygen Concentrator Adjustable Oxygen Flow
---